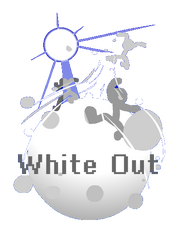 White Out
is the 12th level in the
Slush Invaders Game
taking place in a gray-scale snowdrift. This level comes in after
Tundra
, and has the screen whiting out as a main hazard, hence the name.
Slush Invaders: Game
Edit
Previous Level: Tundra
The snowy levels continue on! In this black and white level, the fighters will have to beat down a black Big Blue to a certain distance. There are certain times where there will be a snowstorm making the screen white except for the arrow that indicates where Big Blue is. It is best to use the numbers 1, 2, 3 up to 7, representing the first fighter in your team as 1, the second is 2 and so on, if you can't see and remember your team.
Next Level: Slushy Ice Frosting
Black and White Beatdown
Edit
The Slush Fighters continue forward with their assault against Big Blue and his fiendish group, taking themselves into the nearly blank and snowy environment of the Tundra.
The group eventually reaches the snowy mountains and continue forward despite the harsh conditions of the weather in the form of occasional blizzards that often obscure the group's vision, while having to deal with the invaders' attack on them. Despite all this, the Slush Fighters are able to find their way out of the blizzard and out of the mountains and reach a nearby northern village which looks somewhat odd. There, they see Big Blue hitch a ride on a Mobile and thus the assault resumes.
Unlockables
Edit
Bonus Objectives
Edit
Defeat at least a total of 8 enemies.
Other Obstacles
Edit
During certain parts of the level, the screen will turn completely white, preventing players from seeing Big Blue, his Blue forces and even the fighters on the player's team. When this happens, it's best to have fast recharging fighters, or auto characters.
Conquering Everest by watermusic34.
Unlike the other two snow levels, White Out starts with Big Blue being launched by Standrew instead of riding a Mobile.
The snow effect forces all the stickmen to take a black and grey color scheme.
Players can usually get past the white out effect by using the number keys or sending a fighter beforehand.
This stage, along with the other snow levels, was drawn during spring.
The level completion text is "Monochrome", and "Desaturation" during hard mode.
This is the only level with a visual hazard that does not negatively affect the characters, but only the player.
This is the only level where all the stickmen are only black and grey.
It is probably called Whiteout because at times the snow makes the screen "whiteout".
The name is a play on the words Blackout and correction tape, commonly known as "white out". A blackout is an event in which a whole city goes black because of no electricity. In this case, the screen goes white, hence the reference to the correctional tool. 
Slush Invaders Wiki Navigation