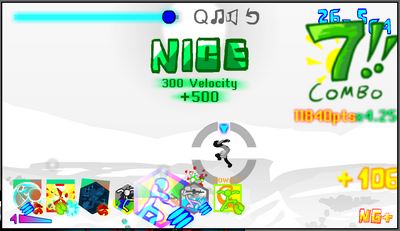 White Out is the 12th level in the Slush Invaders Game taking place in a grayscale snowdrift. This level comes in after Tundra, and has the screen whiting out as a main hazard, hence the name.
Info
Enemies
Unlockables
Bonus Objectives
Defeat at least 8 enemies
Other Obstacles
During certain parts of the level, the screen will turn completely white, preventing players from seeing Big Blue, his Blue forces, and even the fighters on the player's team.
Song
Conquering Everest by watermusic34.
Trivia
Unlike the other two snow levels, White Out starts with Big Blue being launched by Standrew instead of riding a Mobile.
The snow effect forces all the stickmen to take a black and grey color scheme.
Players can usually get past the white out effect by using the number keys or sending a fighter beforehand.
The level completion text is "Monochrome", and "Desaturation" during hard mode .