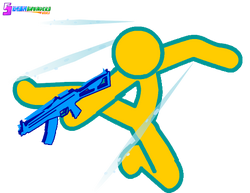 Westick (Wes) is a dandelion (dark yellow) colored stickman with a teal border who's a member of the Slush Fighters. He is very proficient with an SMG, though he prefers to spray bullets around with it. This is a reference to the Call of Duty series (they're both pretty violent).
Westick, along with Joshtick and Stick JK worked together to save Standrew. Westick went in and shot through many Drabs and Limes and killed BigBoi with Joshtick's and JK's help. The three escaped the building with Standrew and made a safe landing. Later,  he ganged up on Big Blue with the other Slush Fighters.
Big Blue's backup forces had failed to catch Westick, thus making him one of the only remaining fighters to get revenge on Big Blue. He decides to aid the Slush Fighters at the Lane Stadium.
Abilities
Medium range bursts
Diving SMG wielder
Upgrades
Improved Shelling

Bullets fly faster and deal 50% more damage.

Spray

Westick fires additional bullets in more directions

Phase Ammo

Westick's bullets pass through multiple enemies while still dealing damage
Unlocked after beating Mornin's bonus objectives:

Send Big Blue flying higher than the visible sky
Reach a combo of 12
Gallery
Trivia
Westick was sixth in the lineup when the Slush Fighters were ganging up against Big Blue. He was not captured, but was injured/stunned when a huge cage landed next to him, causing him to be knocked back. This is why he was not initially on the team.
His SMG and attack style is similar to that of a Drab's.
If you look closely in Westick's upgrades you can actually see Stucker's dagger.
Westick's locked image shows him on his knee (as if he were tired).
Westick was never actually captured by Big Blue's Back-up blues, it can be proven if you see him face-down on the ground in the intro cutscene after he dodged a cage-drop-attack by the back-ups (he probably did get a concussion that prevented him from immediately helping the Slushers)! You actually do see him on the ground while the blues attack Stickhanh and those standing up.
You can see him fall down but when you can see him, stunned, on the floor in the first cutscene in the game, he does not have his gun with him.
He, along with Stickyle, was never captured by the Blues, but is seen captured in the team menu, and also playing the game during the levels 1 - 4.
Westick was supposed to have been with Stedro, Marcstick and Stickhanh after Standrew launched Big Blue in the air and sent the others to attack, along with Stickyle. However, he didn't. (See above)
Westick doesn't have an ultra attack but his icon makes it seem like he does.
Westick, despite his yellow color, is actually Dandelion.
Westick (in the game) will soon graduate and leave Slusher in less than 4 years.
Westick (in game) is sometimes mistaken as Stick Wes.
He is one of the characters using a gun.
Westick is roommates with Staddison.
Westick's SMG in the movie was a sort of dull brown/green color, but is blue in the game.
The color of his SMG is similar to a Drab's if Westick gets hit too many times.
When he fell down in the game, it look liked that he flopped down.

Or he may have been tripped by the unknown member, Stallan.

Westick is the only one who had his gun's color changed.
If you think about it, Westick's attack is the most spread out attack, in one assult at a time (not counting Ultra attacks).
Westick was the only one to fall down in the entire game.
Westick is the only character with a teal outline.
Westick's favorite tactic is "spray and pray".
He attacked a lime character that never made an appearance in the game.
Westick could be Stallan's color shadow instead of Stedro's, since during the capture in the game, their appearing coincidence, their identical clumsiness and in his icon, a shadow covered partly Westick and the color is exactly Stallan's color.
Westick's SMG is black or brown in the movie but it turns light blue outlined dark blue in the game for some reason.
Slush Invaders Wiki Navigation
Community content is available under
CC-BY-SA
unless otherwise noted.