Welcome!
Hey there!
We're excited to have Slushinvaders Wiki as part of the Wikia community! There's still a lot to do, so here are some helpful tips and links to get your wiki going:
All of the above links are a great place to start exploring Wikia. If you get stuck or have a question you can't find the answer to -- please contact us here. But most importantly, have fun! :)
Happy editing!
--
Trella
Hey man. I was pretty an anonymous editor on this wiki, and I decided that while I was at it, I might as well sign up. So I'll be going around, make a few cleanups here and there, that sort of stuff. And...that's all I have to say. See you on the wiki.
Scottick (talk) 16:04, August 12, 2012 (UTC)Scottick
Don't quit blog + report about the wiki
Hi, Ultra! :D Long time no see. I just made a blog (cause I have message for you) for the last month (April) and will be updated if I get rid of my laziness.
And yeah, about the wiki. Since you passed the ownership to me, me and the other admins struggled to keep the wiki alive through its ups and downs. I nearly quitted last July (year 2013, of course) because the wiki is almost deserted by most users. I recall that only Mart is the only who stayed for the sake of the wiki. When I returned, he was the one who approved my idea to make this wiki a fanon wiki. It worked, it gathered a bunch of brand users and make their own articles. Even Vince, Sthomas, Scottick, and Austin returned to help the wiki.
I knew you were not active that much and I saw your monthly contributions/visits to check the wiki. I knew its hard to be the founder/owner at the first place. It will always include leadership, which is I have, but remain underdeveloped. We also made a few new articles for the upcoming Gildedguy's new game "Slush Dungeon", this game is another new hope for the wiki.
For this last two sentences, I like to thank you for creating the wiki which is our home for striving two years. It became a home to me, not just you are around, but the other members too. 
Thank you for the time for reading this, friend. Stay on Slush Family. :) ~Fan aka Rae (new), Fanny, TFOW
How...
... are you Ultra? Its been about, what, a year now since you've been inactive. Anyways, hows thing with you, bro? Good? I think its Good for you! :) Also, do you remember me by any chance?
- Vincetick! :D
Humph I haven't been completely afk. I've been checking but there isn't much to respond too t's all. Don't worry I would never ditch you guys :D
-Ultra
Ultra, Scottick is here more oftan now xD
-Drew
Spotlight Request
Hello. Slush Invaders Wiki is in pretty good shape but it does have a few uncategorized pages. Can you sort those out? Let me know on my talk page when you have done that and I will be happy to add the wikia to the approved spotlight list. -- Wendy (talk) 
05:03, January 7, 2015 (UTC)
Hey, Ultra!
I drew you in stick form!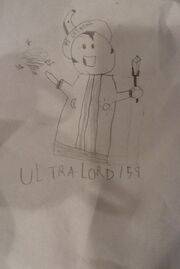 You Do?
Dude... you really Ship both Kirito and Sinon? :3
lol
- Vince! :D
Yes.Yes I do.
Ultralord159 (talk) 03:30, March 30, 2015 (UTC)
Reminder
Tomorrow (2nd May) is the Wikia Fanon and Canon Voting.
Friend's List
I hope you don't mind putting a section like this on your user page. Pretty much almost everybody here has one.
- Vince! :D
About the Theme
Yeah, I'll change the theme and glow and shadow effects a day or two before Christmas.
- Vince!
Ai
So why not come over to Fanon wiki and say hello there O w O
❄ SeiruxWinter ❄

(aka The Fan of Wiki)
Oh ayoo!
Hey, dude!
It's been way too long since I heard from ya! How've ya been? Where've ya been? Also, me and Fan are practically the only ones left keeping the place in check, although I'm sure Scotty drops by every now and then to do the same. FlameSword is the only one left that actively edits though, so if you want to thank someone for keeping the place active, it's him :)
Anyway, most of us are at the sister Fanon wiki these days.
- Vince!
Community content is available under
CC-BY-SA
unless otherwise noted.