No, but seriously
If you wanna see good artwork go ahead and click here to see my brother's deviantArt qwq. He taught me a few basics and then I taught myself for a few years.
Welcome
Hi, welcome to Slush Invaders Wiki! Thanks for your edit to the File:Si 1.png page.
Please leave a message on my talk page if I can help with anything! The Real Sthomas (talk) 22:04, April 26, 2014 (UTC)
Hello there! Welcome to Slush Invaders Wiki! If you need any help please don't be afraid to leave a message on my Talk Page.
- JamesLOB
Note: You are a AWESOME artist :D
- JamesLOB
Whaat??? I'm no awesome artist! >:V
- Trializ

Hi
Hi, Trializ! BTW, you can call me Fan. Your art style is awesome. Why are you mad at our work anyway? Anyone has there own gift so there's no need to be jealous. Keep it cool, okay? :) ~Fan aka Rae (new), Fanny, TFOW 
and to point out something, my art is not as good as yours =D
StAlec (talk) 18:45, May 20, 2014 (UTC)StAlec
Yo!
S'up! The Real Sthomas here. You can just call me TRS. Anyways, anytime I need to tell you something new, I'll put it under this topic.
What's wrong with my CP thing? I made it a long time ago.
BOOYA FOREVER!!!
Hi Trializ Its-A-Me Chakatan Saying Hi and Thanking you for Your AWESOME Drawings and stuff. You Rock Dude.You Have Potential
(Silly Me I forgot to add my signature) - CHAKATAN IS SO AWESOME HE ATE A TACO
NO WAY, U ATE A TACO, WELL I HAD MAC N' CHEEZA!!!! 
StAlec (talk) 18:46, May 20, 2014 (UTC)StAlec
Not to Brag
Now one of your pics say your ar 5'11" and 17 right? well, i am 15 and 5'12" and havent hit growth spert, i am not saying this to brag, but i was like, REALLY beacause all my friends are all 6 feet or over and look down at me and wanted to say THANKS for making me fell better about my hieght at my age!
StAlec (talk) 18:43, May 20, 2014 (UTC)StAlec
STICK PRITCHARD LIVES ON!
A Drawing by Vincetick!
Hey Trializ, look I dont know you very well and actually havent gotten to know you. But, even though i dont know you fully, i did a drawing of you. Hope you like it! :D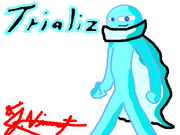 Hope to see you on Chat!
- Vincetick! :D
iT HAPPENED
SOMEONE DREW SOMETHING FOR ME
AAAA THANK YOU QUQ
-Trializ
Vincetick Wrote: Im gonna do another one, this time its in action. (Sort of) Im making it into your B-day present! :)
- Vincetick! :D
Vincetick Wrote: Sorry if it only took me until today to post this B-Day Pic Present I did on your birthday, i was just soooo busy and, well... Meh.
Anyways, I posted here on your Page for you to see. Hope you love it, twice as much as you originally did! :)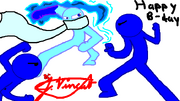 - Vincetick! :D
- Vincetick! :D 03:31, July 2, 2014 (UTC)
Hi
Hi there its me, StiCarson (a.k.a SC), maybe you don't know me, but here's my birthday present! Yeah I know it's kinda late....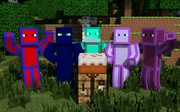 Me!
Hey Trializ, I've been seeing a lot of pics you made and I also the one you made for Chakatan and i just thought, can you draw a pic of me?
- Vincetick! :D
Yo, Vince! :) I'm having some problems with my wifi, so this is coming from my tablet,  but imma see if I can post photos from here!
-Trializ
He-He-He-Hello!!!
Hey Trializ, It's been a while! You sure where absent some time on the wiki, I'm glad your back, so I was wonderin...

HOW DO YOU DRAW SO WELL!!!!! IT's amazing how you draw! you are probs one of the best artists on this wiki, Dude, you are Amazing!
The Drawings you did of Vince and Chak and You are like, AMAZINGLY AWESOME!!!!!!!!
Heres a Drawing I made fo' you! ---------------------------------------->
You are the best artist I know!!!!
YOU ROCK!!!!
PS: I just wanted ta know, can you maybe draw JamesLOB like you did with Chakatan and Vincetick :3, if it's to much for you that's okay, but can ya plz :3
THANKS!!!
.
.
.
Dis is fo' u b-day
Hey dude here's my (LATE) Birthday gift for you :D (And this is also a thanks for your Drawing of me :D)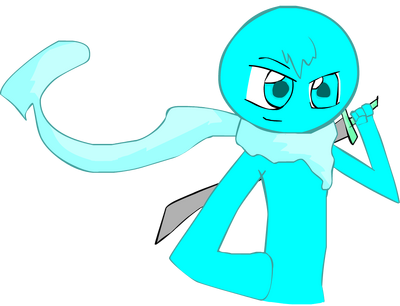 And This took me Half an Hour To Make.
~Chakatan
THANKS TRIALIZ!!!
-JamesLOB :)
Hey Trializ, I know we don't talk a lot, so why not I properly introduce myself! I'm Drew :) It's nice to offically meet you. So I have a little present for you. Hope you enjoy it!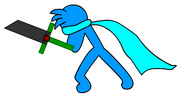 Omg, Did I draw Strializ wrong? I am so sorry :o
Thanks!!
OMG Trializ THANK YOU!!! You are AWESOME!!!
Hello Tri
Hello i am Stkhen ,i have been looking at your pictures lately and it is awesome and unique
if you have time can help me draw stkhen?
Hey Tri ;D!!!
Wassup Tri, it's been a while...
I just wanted to say hi and how are you doing!!!
you really Rock, and you still are an amazing artist (I still think you are)
bye!!!
-JamesLOB
Hey
Hey! Seth Reuben (talk) 15:38, August 1, 2014 (UTC)
Chat Time! :D
Dude... I saw you on Chat... but when I logged in you were Gone. Wanna meet me there now?
- Vincetick! :D
its me!
hey dude, i know you're very awesome at drawing and stuff. Can you please draw a Stick Lucas pic for me?
Pretty pleaes, thanks man.
MysteriousWikian1246 (talk) 10:45, October 16, 2014 (UTC)
You in Season 3
I decided to post that pic of Strializ from Season 3 onto the wiki, anywho, here you go.
Hope ya like it.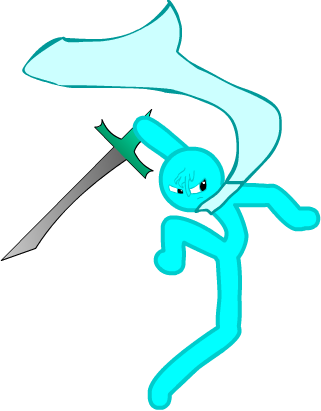 Stay Positive and Be Cool!
- Vincetick! :D
illuminati confirmed
-Austin
Oh 'Mark' Goodness!
HURRAY FOR MARKIPLIER!!! :D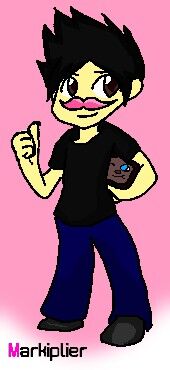 MARKIPLIER IS LIFE, MARKIPLIER IS LOVE!!! <3
But one question... where's the famous Markiplier Glasses? You got his Warfstache face alright, but... Y DAR NU MARKLASSES??? ;O;
Anyway, good job.
I give it a 99999/1337 :) Want to do a Markiplier Collab Pic with me someday, bruh?
Stay Positive, be yourself and... WILFRED WARFSTACHE FOR LIFE/LOVE!!!
- Vince! :D
saaaaaaaaaaaaaaaaaaaaachiiiiiiiiiiiiiiiiikoooooooooooooooooo
-Austin >:D
y u do dis
-illuminati
One last request
Listen Trializ, I know you want all of us to rot in hell (it's not cursing if you're talking about the actual place), but I want you to go over you talk page and see what some of your friends have done for you. Read the messages and look at the pictures, and you just might find that you want to come back. That's all I ask.
After you do this, if you still want to push us off a bridge, that's fine by me. I respect your choice. Just remember all the good memories and friends that have always been nice to you that you're leaving behind.
So I heard that you just went on chat and told ZGamer that you hate him. I have recieved notice that this is not the first time. Rudenesss will not be tolerated. A chat ban will be issued to prevent further offense.
--...
YOUR BACK!!!!
welcome back man! i just got my computer fixed so im back to!!