Welcome
Hi, welcome to Slush Invaders Wiki! Thanks for your edit to the File:Kid.jpg page.
Please leave a message on my talk page if I can help with anything! The Real Sthomas (talk) 04:52, April 17, 2014 (UTC)
I'm sorry to break it to you, idiot
But your page Stick Fight is incomprehensible and must be removed. Go here and count the number of already-playermade playable characters. I guarantee you, there is ALREADY OVER 100 FANMADE STICKS!!! Plus, there is already a Stick Jason and the picture you uploaded has nothing to do with anything that's going on right now. I'm going to remove it all and maybe your ideas will get a second chance once you catch up on evertything that's happening.
I guess Stacob's assassins is ok, it's just that you'll be the only one working on it. And one more thing, NO USING OUR FANMADE CHARACTERS!!!
Fine. But again, only you will be working on it.
Made SOmethin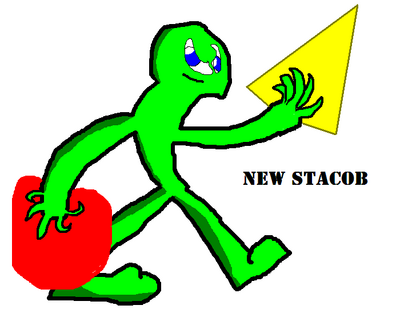 Blnoriel (talk) 08:38, April 29, 2014 (UTC)
Welcome!
Hi, Stick100! Glad to have you here in our beloved wiki! My name is Vincetick, dont get too confused as to why i said that my name is Vincetick when it clears says my name is "Vincentick", well to make things short, my username got a bit of a problem when I first joined here and it seems i cant fix it so, please call me Vincetick not Vincentick, ok?
Welcome to the Slush Invaders!
- Vincetick! :D (talk) May. 1, 2014 (PST)
Why hello there, I am JamesLOB! Just want to point out that you can take a break on making fan-made sticks, if this keeps up, this will be just a fan wiki! You can still make them up, but don't go on a creation spree! Have fun on this wiki and don't make to many fan caracters.
-JamesLOB :)
psst* Dont't Listen to James...Make as many as you want.
Oh and Anyways Thank's for your Awesome Pic Dude! It's Pretty Impressive...I Like how you drew My Friends Characters. But i Especially Like how you drew Me :D!
~Chakatan ( keep up the good work! )
psst* btw i'm Filipino too...But don't tell no body >:3 i like to keep them guessing.
Thanks Dude
Dude, thank you so much for you Picture on me! it is so cool!
You have earned the reward of being awesomer than Awesome!
Keep on being awesome!
PS: It's okay to make as much Fanmade characters as you want! I'm just saying you should take a break once in a while! Wiki Buisness is hard!
-JamesLOB!!!
I'm a bot and yeah i wanna befriends with you -sethSethreuben.zafra (talk) 11:05, May 22, 2014 (UTC)
Hello i'm a boy and i wanna be friends :)Sethreuben.zafra (talk) 11:06, May 22, 2014 (UTC)
you are awesome with a capital A!!!!!!!!!!!!!!!
Ian de Regenidad (talk) 12:12, June 6, 2014 (UTC)
Re: Hey
It's an app called Sketch Guru. I ocassionaly use tablet to draw my characters. ~Fan
Hi?
Hey I'm StiCarson, a.k.a SC, I don't think you know me but still, can we be friends?
-StiCarson <:D StiCarson (talk) 10:07, June 28, 2014 (UTC)StiCarson
Fan made CHaracters
I have 88 characters and they mostly are refernces of Something else (Or just off me, my personality) I'm one and they all are in the group while I'm the leader, much like yours, huh? The Major difference is that actually everyone has an alter ego based on a real constellation. EVERY constellation has it's user. The common Taurus, Cancer, Scorpio and Mensa, Vulpecula, Fornax and 82 more! StiCarson (talk) 14:14, July 23, 2014 (UTC)StiCarson
Hi
Hi do you know me if not then I'm ahsuntry and I've made 10-11 fan sticks till now and umm... idk see ya later
Ahsuntry (talk) 12:28, October 20, 2014 (UTC)Ahsuntry
It's Me!
Ayoo, Stick!
Glad to hear from you again after SO long...
Well, about the pics for the anniversary (and animation, if you're gonna do one), I'll be making a Grand Forum Post about it on the day of the Wiki's 3rd Birthday/Anniversary. I'll highlight it to gain everyone's attention, and with everybody hopefully working on their parts, all of you can post it there.
We're like 3 months away from the Anniversary, so it's a bit early, but I'm currently making a speech for it. And yeah, as usual, it's gonna be long and emotional (lol).
Well that's just my plan for now, but I'll be changing a few things before then. Anywho, it's really nice to hear from you again. How are ya? And yeah, I have to agree on what you said though.
And, yeap, My user page has been updated and is literally like a User for an Anime Convention goer, lol.
Also, if you haven't known yet, there's a fanon wiki now. I'll give you the link if you haven't gone or have no knowledge of it yet.
Community content is available under
CC-BY-SA
unless otherwise noted.