Welcome
Hi, welcome to Slushinvaders Wiki! Thanks for your edit to the User:Scottick page.
Please leave a message on my talk page if I can help with anything! -- Ultralord159 (Talk) 15:57, August 12, 2012
Hey Scottick, We sign our signature like this right? DrewStick (talk) 06:41, November 13, 2013 (UTC)DrewStick 
Scottick, Ur Back? OMG OMG OMG OMG OMG!!!!!!!!!!!!!!!! -The Real Sthomas

I've really been on edge with everybody here and Francis is a whiner who doesn't believe in the five stages of grief happening when your beloved dog dies. Plus, he's been bugging me 4 nothing!
Just a request....
Hey Scott! It's me SC! Just wondering if you can highlight this for me? It's ok if you don't, I'd be requesting a lot of people at once... StiCarson (talk) 13:22, August 12, 2014 (UTC)StiCarson
Where can We Chat?
Umm Scott? How can We Chat now, All my Wiki Chats are Broken and no matter how long i wait, it still wont load, so, where now?
BrightXeno (talk) 04:34, September 28, 2014 (UTC)
lol. xD I thought it was the main category! xD My bad! I'm in a hurry preparing my things for youth camp so, yeah, I made the mistake xP. ~Fan
Anyway, I fixed it. :P ~Fan
Strixie's Judgement
Can you please make the great and powerful Strixie judge my characters. But please,don't put the judgement on their paes, just send them all to me at once
If you need a reminder, here's all of them.
TRS (me)
StEthan
Stick Jackson
Stian
The Striplets
StPhillip
Thank you. It was entertaining. But I forgot that I haven't made StPhillip and Stian's pages yet. Here's a little info.
Stian- A brawler with overwhelming strength. In danger, his only Attack is flailing his arms. Not much of a thinker, though.
StPhillip-A berserker just like Ian. His panda claws deal devastating blows, and his panda hat allows him to transform into a real giant panda! Panda!
Also, he likes dumplings.
Reminder
Tomorrow (2nd May) is the Wikia Fanon and Canon Voting.
I jst wanted to apologize and thank you for the last chance to move my stuff. Everything is ready to be deleted now. If there is anyone else I should notify, please let me know.
Aaxelae (talk) 12:45, October 21, 2015 (UTC)
Hey, no problem, man. Vince or I will take care of everything else.
Scottick (talk) 13:20, October 21, 2015 (UTC)Scottick
Hi Scottick.
I just wanted to opaligize for my inactivity and everything. But I have real life stuff to deal with. I hope to return to this site sometime though.
Aaxelae (talk) 03:26, November 2, 2015 (UTC)
We all have real-life to deal with. Myself, especially. Still, it's good to have you back.
Scottick (talk) 03:34, November 2, 2015 (UTC)Scottick
Not quite yet I'm afraid, but sometime I hope.
Aaxelae (talk) 03:36, November 2, 2015 (UTC)
After all these years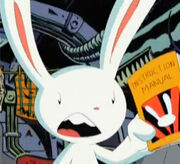 How did I never notice you were a fan of Max too?!
--TRS
Well...I only ever watched the TV series. They don't make cartoons like they used to.
"Well, here we are on the moon. Boy, sure is breathtaking, isn't it?" "Yeah, because everyone knows you can't breathe in space! The preceding joke was taken from the comics."
Scottick (talk) 04:46, July 21, 2016 (UTC)Scottick
Community content is available under
CC-BY-SA
unless otherwise noted.