Oh, you've stumbled on my account! On accident....
If not then..... Welcome to my account!

It's not much, but eh.... I'm SpeedDeHedgehog, video games enthusiast and youtube channel owner. My Avatar is supposed to resemble a stick figure (basically it's a fan-made slush fighter). 
Youtube Channel
Not Great.... but maybe it could be better. I do minecraft and other games I find on the internet. 
Things I do
Marble Race (Algodoo)
Downloadable Games
Online Games
Minecraft Mods
Minecraft Maps
Future People
EnderPlayz
Banana
And some other people (mostly my close friends)

Check it here
Slush Invaders Profile
I'm a fan of Glidedguy mostly because of Slush Invaders. My first introduction was the slush invaders game.

Once I discovered there's an actual wiki of Slush Invaders I had to see. I tried reading every page I could. And found out that most of the wiki is fandom.

Well I have one Fan Character.
Stick Speed

Yeah, thats him. Lime outline with Aqua colour/color. He has a bow, duel daggers and a bunch of customised Arrows. While I intended for him to look like a stickman counterpart of SpeedDeHedgehog. (picture below) I might have dreamed too big.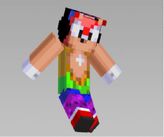 One on the right is SpeedDeHedgehog. He is what I want people to call me as (mostly in public). It's also my MC skin. I prefer this because for security reasons and also cause' my real name would sound weird to you guys. Trust me, I know.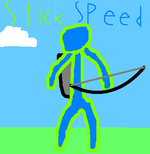 My Fave. Slush Fighters (no particular order)
Sthomas


Yeah, this guy. Other than having a cape with my favourite color. He's got the moves.First, his ultra. I use his ultra on B(ig)B(lue) so I have time to focus on other enemies.

Steric
Other than also being blue. I prefer snipers in any FPS. Then, he is an excellent kick-starter for picking speed on BB when he slows down.
Trivia
I have never played the unhacked version of the game.
I now don't ususally visit this site. (Sun May 24)
Other Games I Play (That have wikis)
Congrats! You reached the end of my page!
Thank you for reading. See u l8r.
Community content is available under
CC-BY-SA
unless otherwise noted.