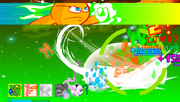 Ultimate (or Ultra) Attacks are powerful abilities that can be unlocked for several of the Slush Fighters. They can be unlocked using Slush Tokens within the Team Menu. Ultra Attacks are unlocked after defeating the Ether Lord.
How to Use Them
Ultra Attacks are activated by double-clicking (or pressing the key twice) a fighter's icon when it is colorfully highlighted. This only occurs when the player has accumulated enough Ultra Bars, indicated by a meter toward the bottom of the screen.
List of Ultras
Roughly half (14) of all unlockable characters have Ultra Attacks, while the other half benefit from a third unlockable upgrade. While different fighters' ultras are more powerful and have better effects than others, they often cost more Ultra Bars to use:
Slush Fighters :
Antagonists :
Ether Lord (when health is at 50%) slashes at Standrew and spews a massive amount of blue flames, pushing him back and levitating higher into the sky.
Bleric: Performs a low-damage and version of Snipe 1440.
Blhomas: Delivers a "blue", low-damage version of the Super Ultimate Turbo Fighter 4 HD.

Others:
 Standrew: Performed a power punch with enough force to knock the blue paint off of a stickman. This Ultra attack is not usable in the game, and is only viewable in a cutscene..
Big Blue: In one cutscene, Big Blue was about to use his ultra attack, but Standrew performed his first, cutting him off. Since Big Blue's ultra attack didn't happen, finding out what it was is quite questionable.
Trivia
The boss levels Ether Lord and Bluish Fighters involve enemies that use Ultras against the player.
Only three enemies can use ultra attacks. (Ether Lord, Bleric, and Blhomas)
Players start with a limit of 2 Ultra Bars, which is increased to 3 after defeating the Bluish Fighters. It can be increased to a maximum of 4 Ultra Bars after the NG+ shop upgrade.
In the Bluish Fighters level, Blomar doesn't use an Ultra Attack.
The game will often pause for an attack animation before an ultra attack starts. This is where we can see more detailed portraits of fighters' faces.
Staddison's upgrade, Hardline, reduces the cost of Lvl 2+ Ultras by one bar (for adjacent allies). This allows players to potentially use 4 Ultra attacks at once under perfect conditions (otherwise, the max is three).
When antagonist ultras are being performed, all fighter icons are locked.
For some reason, neither Blomas nor Bleric are shown to have mouths during their ultra cutscene, while Sthomas and Steric do appear with mouths.
It is possible to activate more than one ultra attack if you have enough ultra bars to do it.
It is unknown why only Bleric and Blhomas were the only ones who could activate their ultra attack when all of the bluish fighter's regular selves could activate their ultra attack.
When an auto attacker is dead, like Sticorey for example, and you use their ultra attack, nothing will happen and the ultra bar meter will go back to 0.
Stick James and Standrew's Ultra attack are the only ultra attacks that consist of only one punch.
Slush Invaders Wiki Navigation