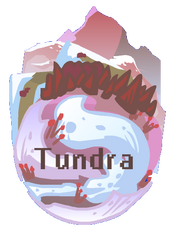 Tundra
is the 11th level of the
Slush Invaders Game
, taking place in a snowy plain at the base of a mountain range. This level comes after the
Ether Lord
, and features the introduction of the
Mobile
enemy, the
Ultra Attack
system, and is the first level where
Big Blue
isn't launched by
Standrew
.
Slush Invaders: Game
Previous Level: Ether Lord
Previously, after Ether Lord was defeated, Big Blue made a fake truce to stop fighting. Standrew was gullible enough to believe it (Like seriously Standrew?)! As a result, he got punched and Big Blue jumps into a Mobile, where it makes its first appearance in the game, being defended by a Drab. He then ends up in this snowy place.
Next Level: White Out
Snowy Travels
As Big Blue drives off in the Mobile, the Slush Fighters chase after him. But soon, Blues, Drabs and Toasters begin laying chaos to them. As soon as the Slush Fighters demolish the Mobile and the enemies, they rescue Stagar and head on to a land with a chaotic blizzard.
Info
Enemies
Unlockables
Bonus Objective
Defeat at least 3 Mobiles.
Have only 5 Fighters on your team.
Other Obstacles
Big Blue begins on a Mobile.
Song
Disclaimer: We don't own this, WaterMusic34 does! The articles and others on this wiki belongs to wikia and other respective owners.
Gallery
Trivia
After the Ether Lord is defeated, Big Blue hops on a mobile, hinting at this snow level.
This level, along with Slushy Ice Frosting and Luna, is the only level where Big Blue starts on a Mobile instead of being launched by Standrew.
This is the first level where mobiles appear.
The level completion text is "No Mo' Mobiles" as a reference to the bonus objective.
Slush Invaders Wiki Navigation
Community content is available under
CC-BY-SA
unless otherwise noted.