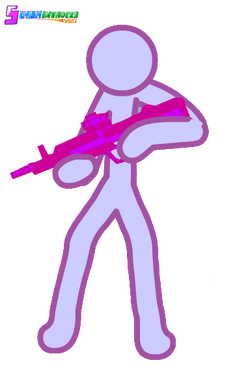 Stickwart (Stewart) is a Lavender stickman with a purple border who's a member of the Slush Fighters. In the movie he is one of the riders of Stick Waqas' rockets and never uses a specific power. In the game, he is a rifle wielder who can fire several shots aimed by mouse at an enemy.
The third shot and the others that follow that hit successfully do high damage and reward bonus points. His powers reference gameplay found in Halo.
Stickwart give Stick Waqas the ready signal to fire the rockets and flies towards Slusher Wing with Stick Dan and BriStick. Stickwart's rocket is the last one to hit the building and therefore did not hit any Blues. He later appears to gang up on Big Blue.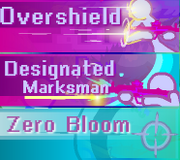 Stickwart is one of the Slush Fighters captured by Big Blue's men. He is not unlocked until beating
Slusher
on
NG+ mode
.
Abilities
Fires several precise shots
Third successive shot deals massive damage

If all three shots are delivered to one enemy, a bonus called "Chain Shot" is given.

Aim shots with mouse 
Upgrades
Overshield

Stickwart can now take 2 hits before retreating.

Designated Marksman

Stickwart's fire rate is increased by 40%

Zero Bloom

All shots are placed exactly where aimed. No randomness.

Unlocked by beating the Lake's bonus objectives:

Have only 4 fighters on the team
Defeat at least 4 enemies
Gallery
Trivia
Stickwart's abilities were not introduced until the game was released.
Stickwart, along with Stick Dan, BriStick, Stickirby, and Stick Jorge, are the only characters unlocked in NG+ mode.
Stickwart's locked image shows him being crushed by a 10 ton weight.
Overshield protects Stickwart from all enemies (for the most part) except Drabs.
Stickwart's gun is actually a M392 Designated Marksman Rifle (DMR), which is a reference to halo. That is why his 2nd upgrade is called Designated Marksman.

Another reference to Halo is his Overshield upgrade.

Stickwart was originally named Stickewart in the movie but was changed in the game (possibly because Michael thought Stickwart was better, or because he made a typo).
Stickwart's color is slightly lighter in the movie than it is in the game.
If the player does not aim, Stickwart will not fire.
You can see Stickwart's real name, along with Stick Dan's and BriStick's, briefly in the movie.
It's unknown where Stickwart got his gun, since he was seen with no gun when he was ganging up with the others against Big Blue.
His outlining is darker in the game than in the movie.
Because you get to choose where Stickwart shoots, he is essentially a controllable character.
Stickwart is the only character to have the letters in his name separated (Stewart, St[ick]wart).
Stickwart is strong/durable enough to survive under a 10 ton piece of metal.
Stickwart, along with Joshtick, are the tallest of the Slush Fighters.
Slush Invaders Wiki Navigation
Community content is available under
CC-BY-SA
unless otherwise noted.