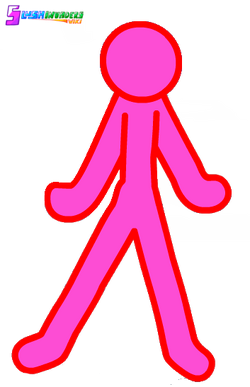 Stickirby (Kirby) is a pink stickman with a reddish pink border who's a member of the Slush Fighters. Although the character was nameless at the release of the movie, it's highly possible that he was the first stickman that the Blues attacked and if it was him, they ruined his lunch break. Stickirby will put anything in his mouth. The game shows that he has the power to mimic an enemy and their abilities. This is a reference to the famous Nintendo character Kirby.
Slush Invaders
Despite not being named in the movie, it's highly possible that Stickirby was the first person that the Blues beat up. The attack ruined his lunch hour. Or he may have been the Stickman That Dodged a Blue's Punch (and the Blue Destroys Stedro's gamecube) right after Stedro's Introduction.
Slush Invaders: Game
Stickirby is one of the Slush Fighters captured by Big Blue's men. He is rescued after beating the Ether Lord on NG+ mode.
Abilities
Copies a minion's abilities for a short period of time.
​Upgrades
Devour

If copying a Blue, Stickirby will drain its health.

Sustain

Stickirby maintains his form 30% longer.
Copy Abilities
Blue: Will run along the screen attacking any other Blue force who gets near (With Devour and Absorb, he is capable of being a healer).
Drab: Flies around shooting at very fast intervals.
Azure: Gives invincibility to the ally left of his icon (As same as Sticorey's Ability).
Cobalt: Blocks off any Blue forces who get near him, more damage resistent than the other forms.
Other enemies: Cannot copy.
Gallery
Trivia
Stickirby is roomates with Stucker.
Stickirby was friends with Ben Stickobi, Sticorey, and Stick Waqas.
Stickirby's powers were never introduced until the game was released.
Stickirby is only unlocked in NG+ mode, along with Stickwart, Stick Dan, BriStick, and, Stick Jorge.
Stickirby is the only Slush Fighter in the movie to have not fought back. Stickirby is a lover, not a fighter.
Stickirby's locked image just shows him in Kirby's Stone form.
Stickirby is the only fighter whose upgrades require another upgrade to work, despite not saying, aside from Stomar.
Stickirby is the only one out of all the Slush Fighters who can copy an enemy's ability.
Stickirby was not shown to be captured by the blues, so he could have been just hiding as a rock.
Stickirby's icon looks similar to Westick's initial attack animation.
In the first movie, Stickirby is one of the only Slush Fighters in the first game to not have fought against the Slush Invaders, the other being Stick Jorge.
When he is summoned during Stick James' Mass Alert, he sometimes doesn't do anything, and as a result, remains frozen, unless he aims at an enemy.
Basically, Stickirby is a living weapon, since he can copy the abilities of other enemies (bosses don't count).
His Absorb icon looks like Kirby. This shows how he is a copycat.
The student who dodged the blue's punch that broke Stedro's gamecube had the same colour palette as Stickirby, or could've been him.
Stickirby looks like he's doing the Pelvic Thrust When he tries to copy a Drab, Blue, etc.
​Stickirby is possibly the only Slush Fighter to imitate an object (A rock before he is unlocked and a Cobalt).
According to some fans of the series during a poll on the series' facebook page, most fans prefer Stickirby as their best Slush Fighter.
Slush Invaders Wiki Navigation
Community content is available under
CC-BY-SA
unless otherwise noted.