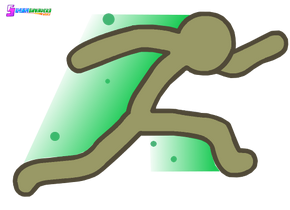 Stickhanh (Khanh) is a light brown stickman with a dark brown outline in the game, but apparently has no outline at all in the movie. He's also a member of the Slush Fighters. He has very strong legs and can utilize soccer balls as weapons.
While the Blues and Slush Fighters were battling with each other, Stickhanh and Stagar were outside relaxing while Stickhanh was bouncing a soccer ball and Stagar was relaxing. As Big Blue's Blues tried to capture him, however, Stagar beat them down and the two used the ball to beat down the rest that came for them. Stickhanh later appears to gang up on Big Blue.
Big Blue's men failed to capture Stickhanh, making him your first auto fighter.
Abilities
Chases Big Blue along the ground.
High power kick upon contact.
Upgrades
DamageX2

Stickhanh has double damage and power.

Wing Boost

Teammates adjacent to Stickhanh's icon receive a 10% power boost.
Represented by icon of a green wing.

Pele Attack

A soccer ball will randomly appear to hit and bounce off multiple enemies.
Unlocked by beating Drillfield Day's bonus objective:

Defeat at least 2 enemies.
Have only 3 fighters on the team.
Notes:
Stickahnh can still damage Bosses, albeit only on a minimal percentage of their health.
It is highly recommended that players use Stickhanh in levels that involve a huge amount of enemies, as they can seriously hinder the rest of the player's team from assaulting Big Blue. So having Stickhanh within the team as backup is quite important to launch Big Blue back into the air.
Stickhanh's Pele Attack can damage any enemy caught in its way and can bounce off and hit other enemies it lands on.
Stickhanh has no Ultra Attack.
Gallery
Trivia
Slush Invaders
"Khanh" Is a Vietnamese word used in names.
Slush Invaders: Game
In the game, the description for Stickhanh's Pele Attack says that Stickhanh tosses a football. Most Americans call it soccer instead of football because there is already "American Football".
Stickhanh is one of the fighters without a locked image.
Stickhanh is probably the only Slush Fighter that plays soccer or fights by using a soccer ball, but in the movie Stagar also used the soccer ball to beat up a few Blues.
Should Stickhanh kick Big Blue just before he escapes, players will earn a "Stickhanh Clutch" point bonus. This is a reference to a Call of Duty "last minute" victory called "Clutch", where the last remaining player(s) must win a round all by themselves against the opposing team.
Stickhanh will not attack Cobalts, not counting his soccer ball. 
Stickhanh and Stagar are the only ones who use sports equipment as weapons.
When Stickhanh is kicking and is being shot by Drabs, he can kick off those bullets they shoot and not get hurt.

This makes him the only known Slush Fighters to be completely invincible regardless of what happens. This does not include Marcstick when his Evade is active, Sticorey's shield and Stomar during his combos.

Stickhanh's Pele Attack is a reference to Pele, who is widely considered the best football (soccer) player.
Between the cutscene, Stickhanh is seen with a blue outline.
Slush Invaders Wiki Navigation
Community content is available under
CC-BY-SA
unless otherwise noted.