Stick Waqas

Stick Waqas (Waqas)

Colors

Blackish Grey

Abilities and Powers

Enhanced Intelligence Paper Constructs

Unlocked

Moon Prison (Normal Mode)

Hobbies

Engineering

Upgrades

Homing x2, Rocket Boy, Launch Day

Appearances

Slush Invaders (Original) Slush Invaders (Game) Slush Tile Rush
Stick Waqas
is a blackish grey stickman who is a member of the
Slush Fighters
. He is a genius mechanic who can create rockets or
turrets
of any size and is very likely the smartest Slush Fighter...so far.
After receiving a signal from Staddison to launch the kill-streak missiles, Waqas looks back at the missiles and the blueprints of the plan before Stickwart, Stick Dan, and BriStick give him the ready signal. They then take off with the missiles. Waqas later is seen at the end of the movie to gang up on Big Blue.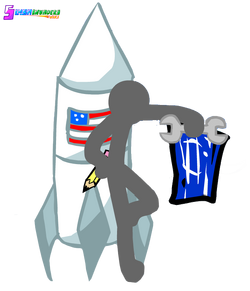 Stick Waqas is one of the fighters captured by Big Blue's men. He is later rescued after beating Moon Prison.
Abilities
Creates high power missiles
Crafts 1/2 missile every time he's activated

Fire stored rockets by clicking twice
Upgrades
Homing x2

Waqas creates 2 homing missiles at once that move twice as fast

Rocket Boy

Waqas produces 3 regular rockets at once and recharges 50% faster

Launch Day

Ooooohhh. AahhhHHH!!!
Several rockets similar to the ones Waqas made in the movie are fired towards the enemy while Waqas creates several missiles at once.
Level 2 Ultra
Requires one Slush Token to unlock
Strategy
Make sure Sticorey is on his right as it'll keep him from getting killed in harder levels and build rockets/missiles without distraction.
Note that his normal rockets will go straight forward and smash all targets in their way, while the homing missile will ignore all enemies except for their target.
Stick Waqas is one of the unlockable characters in Slush Tile Rush. He creates turrets to deal turret damage.
His attacks are turrets which will attack for you, When you build 3 turrets in a row it will turn into a super turret which will make 4 turret damage. Though it does not work for 4 in a column, taking up more space.
His ultra is called Super Turret which will automatically make a super turret without forming it with 3 turrets in a row.
Gallery
Trivia
Stick Waqas did not have an outline in the first game, unless you count the light-gray outline during his Ultra Attack activation scene.
Stick Waqas' locked image shows him hanging upside down from one leg attached to a cord.
Stick Waqas (in real life and in-game) has stubble.
Stick Waqas's missle making technique is revealed in the game: making missles out of origami (in this case, the blueprints in his hand).
Stick Waqas (in the game) will not graduate nor leave Slusher as he is the Engineer and Mechanic of the Tower (technically it's impossible).
Stick Waqas is the only input fighter with limited health. 
At the end of the Slush Invaders movie, Waqas asked why he was black, but then he said that he was 'Waka Floka'.
Since his rockets were made from origami, it's safe to say that Stick Waqas is the only fighter to use paper as his weapon.
It's possible that his blueprints can transform into other things other than rockets.
Stick Waqas was the only fighter to be seen in Sthomas' Ultra Attack in the trailer, as in walking on the screen and not as an icon.
Stick Waqas is also one of the Slush Fighters in the game whose name has a dual color, unlike the other Slush Fighters.

His name colors are Grey (or Waka Floka) and Blue.

In the movie, his blueprint had the words "The Blue Danube" written, and two stickmen were seen.

This may be a reference to Stick Luke's video "The Tomahawk Danube".

"Waka Floka" is actually an allusion to Waka Flocka, a Jamaican hip-hop singer. He has a dark skin color so that explains why Stick Waqas said "Why am I black? Oh yeah...I'm Waka Floka".
Its possible that Waqas may be either left-handed or ambidextrous.
In Slush Tile Rush, he is called Waqastick.

Also in the second game, the stubbles on his chin have visibly disappeared, but are still present. This goes for Sthomas as well. This was most likely done to fit in with the younger fans of the series.
Slush Invaders Wiki Navigation
Community content is available under
CC-BY-SA
unless otherwise noted.