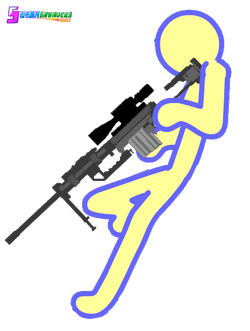 Stick JK is a yellowish white stickman with a light blue outline who's a member of the Slush Fighters. He is a sniper like Steric, but the two have completely different styles. While Steric often gets closer to his enemies, JK prefers to stay far from them and get precise shots.
Stick JK worked together with
Westick
and
Joshtick
to save
Standrew
from the team of
Drabs
, 
Limes
and
BigBoi
guarding him. JK snipes a lot of Drabs and Limes off and kills BigBoi with Westick's help. He then escapes the building with Westick, Joshtick, and Standrew, where he soon gangs up on
Big Blue
along with the other Slush Fighters.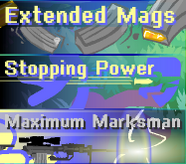 Stick JK is one of the fighters captured by Big Blue's men. He is later rescued after defeating the
Ether Lord
.
Abilities
Auto-snipes 30% of 2 targets' HP

Note: A bonus called "Crazy Damage" is given if Stick JK deals a large amount of damage to one target.

Limited health.
Upgrades
Extended Mags

Stick JK snipes 3 targets instead of two.

Stopping Power

Shot damage increases to 60% of targets' health.

Maximum Marksman

Stick JK prioritizes his shots towards Azures and highest HP targets.
+50% health.
Unlocked by beating Autumnus' bonus objective:
Gallery
Trivia
Stick JK was eighth in the lineup when the Slush Fighters were ganging up against Big Blue. He was captured when a rope wrapped around his arm and pulled him away.
Stick JK has the longest gun in the whole team.
Stick JK is unlocked after beating Ether Lord.
JK's locked image shows him tied-up like a prisoner, but he still has his gun behind him (not that he could reach or use it).
Stick JK doesn't have an Ultra Attack.
In his character icon, his rifle's bipod is deployed, but he doesn't actually use it when attacking.
It's best to unlock his Maximum Marksman upgrade in NG+ Mode, since Autumnus turns into a regular level, making it a little easier to unlock it.
He is one of the fighters with a gun.
He is a really fast runner.
His weapon is a Cheyene Tactical Intervention bolt-action rifle.
Slush Invaders Wiki Navigation
Community content is available under
CC-BY-SA
unless otherwise noted.