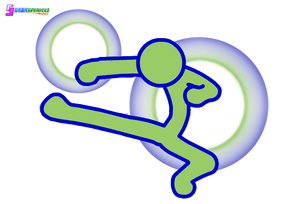 This article is about the combo extending Stick Brian. For the resilient dark blue Brian, see BriStick.
Stick Brian (Brian) is a pale green stickman who's a member of the Slush Fighters. He has no powers, apart from being able to appear out of thin air and making circles while he's attacking. The game gives him a use as a combo extender for anyone on the left of Brian's icon.
After Sthomas deals his epic fifteen hit combo, Stick Brian (along with Stick Matt) hop in to extend the combo until Sthomas kills the Blue with a headbutt. He later appears with the other Slush Defenders to gang up on Big Blue.
Role in Game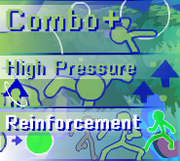 Stick Brian is one of the Slush Fighters captured by Big Blue's men. He is later rescued after beating
Haunted Turf
.
Abilities
Upgrades
Combo+

Increases the combo counter by 1 each time Brian extends an attack.

High Pressure

Brian performs 2 additional punches
Adds an arrow with Stick Brian to the icon of the ally he's affecting

Reinforcement

Brian now extends the attacks of both teammates <adjacent> to him.
Unlocked by beating Haunted Turf's bonus objectives:

Beat the mission in 90 seconds flat
Obtain a score of at least 25000
Trivia
Slush Invaders
Circles never appeared around Brian when he appeared in the movie.
Slush Invaders: Game
In his upgrades you can see Stick Michael and Ben Stickobi.

Stick Brian is the first Brian of the Slush Fighters, the second one being BriStick.
Stick Brian's locked image shows him trapped within his circles.
Stick 

Brian only appears twice in the movie: the first time he appeared was to help Sthomas beat up a Blue, and the second to gang up on Big Blue (unlike the others before Steric, Stick Brian didn't appear in the montage).
Stick Brian is the only one who can attack right after another fighter attacks.
Stick Brian and Stomar are the only ones who can extend their combo as an upgrade.
Without his upgrades, Stick Brian's animation takes the least amount of time. 
With the upgrades, he takes about as much time as BriStick.
Gallery
TBA
Slush Invaders Wiki Navigation
Community content is available under
CC-BY-SA
unless otherwise noted.