Sthang

Sthang's Attack Image in Slush Tile Rush

Colors

Red and Crimson Outline

Power and Abilities

Limited health, respawning, pyrokinesis

Upgrades

HP- , Ashes, Hellfire

Unlocked at

Beating White Out
Sthang
(Hang) is a red stickman with a dark red border who is a member of the
Slush Fighters
. He is essentially a
phoenix
, with the ability to conjure fire and resurrect from his ashes after dying, which is a valuable asset for him as he dies the most out of everyone in the main group.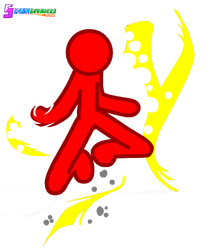 Sthang appears after Sthomas runs away from the Drabs and Blues surrounding him. Sthang was seen snoozing until his name fell on his head, waking him up. He later saw the Blues and Drabs standing and kills one of them due to his anger of being awakened. However, Sthang ended up in the middle of the Drabs' shooting range and was shot dead. He then turned into a pile of ashes, much to the confusion of some Blues. Sthang eventually resurrected from the ashes and killed two of them until getting shot again. Sthang recovered once more and killed two more Blues before incinerating the whole group of Blues and Drabs. As he makes a pose, however, Sthang gets shot by a Drab and dies again. He later makes an appearance to gang up on Big Blue.
Sthang is one of the fighters captured by Big Blue's men. He is later rescued after beating White Out.
Abilities
Upgrades
Notes:
It was not confirmed if whether or not Sthang was to take part in this game before its cancellation, although it could be proven that he was going to take part in it somewhat as Gildedguy posted concept arts of Sthang using some new abilities.
Sthang is one of the fifteen Slush Fighters in the game. He is one of the first unlockable characters, along with Ben Stickobi. Tile Rush Info Box:
Sthang

"This fire stickman does great damage, but needs a quick nap before starting any chain."
Damage:
2 Tiles = 0, 8, 9, 10... DMG
3 Tiles in a row= 10 DMG (Inflicts 'burn' on enemy)
Gallery
Trivia
General
Slush Invaders
Slush Invaders: Game
Slush Tile Rush
Slush Invaders Wiki Navigation