Steric

Steric (Eric)

Colors

Light Blue and Blue

Abilities and Powers

Enhanced Strength Enhanced Marksmanship Quickscoping

Unlocked

The Bluish Fighters (Normal Mode)

Hobbies

Call of Duty

Upgrades

Squad Spec. Quickscope Snipe 1440.

Appearance

Slush Invaders (Original) Slush Invaders (Game) Slush Dungeon Slush Tile Rush
Steric (Eric) is a light blue stick man with blue outline who's a member of the Slush Fighters. He wields a high-powered sniper rifle and prefers to get closer to his targets in both the first movie and the first game, while in the second game, he wields a sniper rifle. Steric also has the tendency to quick-scope, or shoot without looking into the sniper rifle's scope. This is a reference to many FPS's, but especially the Call of Duty series. He also might be rivals with Stick JK since they are both snipers. Unlike JK, he likes to get up close and personal with his targets. 
In the movie, Steric is first introduced while using his scope. He and Staddison teamed up to take on a small group of Drabs. 
Steric was first seen sniping down a group of Blues and Drabs on the high floors of Slusher, creating an opening to the elevator for Westick, Joshtick and Stick JK to rescue Standrew, who is being held hostage at the highest floor of the Tower. When reinforcements arrived, Steric quickly quick-scoped one of them before doing a 360* quick-scope to eliminate the second Drab that was present. Later on Staddison arrived and took down the third Drab, before using a flashbang to blind the last two Drabs, with Steric taking down one of them and with Staddison taking down the last one before earning a Killstreak Bonus.
Steric later appears to gang up on Big Blue.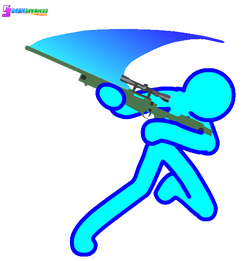 Steric is one of the fighters captured by Big Blue's men, where he was caught by rope on his foot before being dragged upwards by the reinforcement Blues. You can rescue him along with Stomar and Sthomas after defeating them as the Bluish Fighters.
Steric, along Sthomas and Stomar, are first seen after the assault on Big Blue and his Invaders in Galaxyrise, where him and the other two are imprisoned in a cage, with Big Blue watching them as Stomar tries to reach him with his sword. Later he calls a Blue who is holding a can of Blue Paint, and then dumps it on all three of them, knocking them all unconscious for some reason. When Standrew and the team arrived and broke the cage to rescue them, all three suddenly attacked Standrew, as the Blue Paint corrupted them into becoming their evil counterparts, the Bluish Fighters.
After knocking the paint off of them, all of them were freed, that is until Big Blue threw a PokeBall at Standrew, comically capturing the Slush Fighters who were present into the PokeBall.
Later on, after they managed to escape from the PokeBall, he and the Slush Fighters began to continue the assault on Big Blue, this time within the Invaders' base on Luna. After the defeat of BigBoi Prime and Standrew defeating Big Blue, who was later revealed to be another innocent stick man corrupted by the Blue Paint, he and the rest of the other Slush Fighters, Stanthony, the remaining Invaders and the Prisoners escaped Luna before it exploded. It is shown that Stick Sean borrowed Steric's sniper rifle to create a portal from Luna to Galaxyrise to escape Luna before the Blue Base exploded.
Abilities
Fires a single high power shot that goes through multiple enemies.

Note: Bonus points are given when his shots go through more than one enemy.
Upgrades
Squad Spec.

All Soldier-Type fighters on the team get a 10% power boost.
Represented by an icon of 3 blue bullets.
"Squad Spec." includes Stick Luke, Staddison,Stick Dan, Stickwart, Stick JK,and Westick.

Quickscope.

Input attack: Press Steric's icon again to precisely use his attack.

Snipe 1440.

No.1 clip of the week.
Level 1 Ultra.
Steric fires four shots, three going in different directions, and the last going in the same direction as the last one.
Requires one Slush Token to unlock.
As a Bluish Fighter
Does not have any upgrades.
Will automatically target Standrew.
Performs Ultra after health of Bluish Fighters is low.
Ultra has low accuracy and does low damage.
Notes:
The player should pay attention when using Steric when the Ultra Bar is filled, if his "Quickscope" Upgrade was bought and he is an Input Fighter, as they could unintentionally activate his Ultra Attack without noticing it. Wait for a couple of seconds before clicking him again to peform a Quickscope without simultaneously activating his "Snipe 1440*" Ultra Attack.
Steric's Quickscope ability will grant the player bonus points ("Quintuple", etc) depending on how many enemies were hit with a single shot from his AWP.
Steric was one of the fighters who is in Slush Tile Rush. He wears his cap, as seen in the game.
When swiped four in a column or three in a row, he activates his special attack, Super Shot, inflicting 30 damage to the enemy. He removes tiles that are in the same row as his tile. He is a good character if you want a team of players that removes tiles easily, though at the cost of his tiles appearing rather slowly.
Gallery
Trivia
Steric was tenth in the lineup when the Slush Fighters were ganging up against Big Blue. He was captured when a rope wrapped around his arm and pulled him away.
Steric's animation during his attack is likely a reference to a popular trend in FPS games, known as the 360 No Scope.
Steric's YouTube account can be found here. (Link no longer leads to a valid channel. It will just lead to a 404 error.)
Steric, as a Bluish Fighter, is named Bleric.
Steric, with Stedro, Stickyle, and Stick Michael has two different icons.
Steric plays Call of Duty and Halo.
Steric's locked image shows him sitting with some of the leftover blue paint on him.
Steric is actually more of a crack-shot quickscoper while JK is more of a careful marksman.
Steric is roommates with Joshtick.
At the end of the movie, Steric and Marcstick got hit by tomahawks, which were probably Stick Luke's.
During his Ultra Attack, you can see the word "Unk" in the background, which is referring to his YouTube account, "UnKmyJuNk".
Steric, Stomar, and Sthomas are the only Slush Fighters to make an appearence on the world map.
Steric is the only one where his ultra attack is just 4 more extra shots.
Steric is actually a word having to do with chemistry.
After upgrading him, he can be considered a playable character, since you get to decide when for Steric to fire his shot.
Steric indirectly helped save everyone during the Moon Explosion, as if it wasn't for his Sniper, Stick Sean wouldn't have created a portal from the Moon to Earth, this can be noted that he did not do anything, but he indirectly saved everyone alongside Stick Sean.
Steric was the only gun character to do a horizontal spin in the movie.
Steric is the only who ever talked in the game, besides Sthomas. He was screaming in agony when a tomahawk struck him.
Steric seems to have a rivalry with Marcstick, as he was saying that Marc would usually run away when the former was trying to show off to the others in the epilogue of the first movie.
There is actually a word "Steric" in the dictionary, which is a scientific word for "space".
He is using an AWP in both Slush Invaders and Slush Invaders: Game, but in Slush Tile Rush, he uses a Hunting Rifle.

He was also shown to be using his signature AWP in Slush Dungeon through the forms of concept art before it was cancelled.

Steric appears in two concept pictures of Slush Dungeon before it was cancelled.

​The first one being about him ducking and rolling, attacking a blue from afar, and shooting a switch from afar.
The second one being in the unknown pixel land with Sthomas and Stucker.

A tile for Steric appears in the latest video from Gildedguy (8/16/14).

​The Tile of Steric shows him wearing a cap and is in the position that is nearly alike Stick Luke's regular tile.

It seems that Steric is using a Hunting Rifle instead of his signature AWM in the game, as seen in the trailer and later on In-game.

A theory for this could be that, after Stick Sean used his sniper to create a portal during the ending sequence of the first game, Stick Sean gave it back to Steric but after the panic escape, he dropped it in Luna before the explosion.
Another theory suggests that his AWM Sniper has been badly damaged and was no longer able to be used, so he changed it to using a Hunting Rifle instead.
Yet another theory suggests that his rifle is a tribute to Team Fortress 2. If this were the case, he'd be holding the "Hitman's Heatmaker".

He and Stickyle are so far the only fighters featured in one of the series' game logos.
Slush Invaders Wiki Navigation