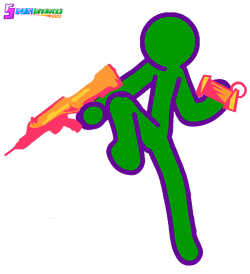 Staddison (Addison) is a green stickman with a thick purple border who is a member of the Slush Fighters. He wields an orange Rifle and some flash grenades that stuns any opponents it hits. He can also call in missiles when he kills enough enemies (Waquet missiles in the movie, a nuclear warhead in the game). This is also known as a killstreak.
This is a reference to many FPS's (first person shooters), but especially the Call of Duty series.
Staddison, along with Steric, worked on clearing the elevator area of Slusher Wing of Drabs by first launching his stun grenades to blind/disable them and rushing in with his rifle. After killing three of them, Staddison's "three kill strike" bonus activated, allowing him to call Stick Waqas to launch the kill streak missiles. Staddison later made an appearance at the end of the movie to gang up on Big Blue.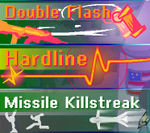 Staddison is one of the fighters captured by Big Blue's men. He is later rescued after beating Bitland.
Abilities
Ranged bursts with instant impact
Stun grenade (Input Attack)

Can be activated manually
​Upgrades

Missile Killstreak

Call in an air to ground guided missile.

Aim with mouse or arrow keys

Level 1 Ultra
Requires 1 Slush Token to unlock

Click or press space bar to launch
Controlled with mouse but will automatically detonate after reaching ground level
Trivia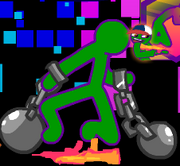 Staddison was twelfth in the lineup when the Slush Fighters were ganging up against Big Blue. He was captured when he fell into the pit that opened up under him.
Despite the fact that you find him after a computer based level, StAddison's locked image just shows his arms chained to two giant iron balls.
Staddison wears a baseball cap in all the images that show his face but everywhere else, he doesn't have a cap.
Staddison is the only fighter in the game who has a cap (similar to Sthomas and Stick Jorge being the only ones with a cape and Stomar being the only one with a scarf).
Staddison is actually colored Dark Green.
Staddison's color is the same color of "Dark Green" as Mr Red's Boss and the main antagonist in the Shock Series which can also be found on Stickpage.
Staddison's SMG was black instead of red/orange in the movie.
Staddison is one of the characters with a gun.
Staddison's Ultra Attack is the only attack that you can guide.
Because you get to guide his missile, Staddison would be considered the only controllable character, along with Stickwart.
Missile Killstreak's background shows the missile going sideways, but this is in fact, impossible.
Slush Invaders Wiki Navigation
Community content is available under
CC-BY-SA
unless otherwise noted.