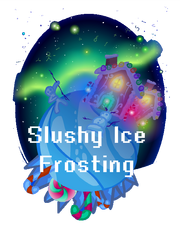 Slushy Ice Frosting
 is the 13th level of the
Slush Invaders Game
, after
Whiteout
. It takes place in a wintery forest path under the northern lights in a candy forest. It also passes through a village of
gingerbread stickmen
. It is referred to as "Ice Frosted Forest" in
Slush Tile Rush
and serves as the 2nd level of that game.
Slush Invaders: Game
Previous Level: White Out
The level begins with Big Blue riding on a mobile. The Slush Fighters chase him on the mobile, with Blues, Drabs, Toasters, Cobalts and Azures in their way through a candy forest under the northern lights sky. As soon as the level is halfway complete, the Slush Fighters/Invaders find themselves in a candy village inhabited by Gingerbread Stickmen, who serve as obstacles.
Next Level: Galaxyrise
North Pole Christmas Assault
When the Slush Fighters emerge from the snowy chaotic wilderness, they battle their way through an icy forest, where Drabs, Azures, Blues and other enemies lay siege to them. Soon, the Slush Fighters enter a candy village, where stickmen made of gingerbread block their path. As they exit the village, they rescue Joshtick and head into a mass of giant reeds.
Info
Enemies
Unlockables
Bonus Objectives
Hit a velocity of at least 300
Reach a 25x Combo
Other Obstacles
Big Blue starts on a Mobile.
In the second half of the level, gingerbread sticks will appear across the screen. They break when hitting Big Blue (slowing down velocity) and also hurting the Slush Fighters.
Gallery
Song
Conquering Everest made by watermusic34.
Trivia
There are multiple stick figure constellations in the sky.
This level, very much like Tundra, begins with Big Blue starting on a Mobile instead of being launched by Standrew.
This level, along with the other snow levels, was drawn during Spring.
The level completion text is "Oh NOoo", and it is "Ginger Stickmen" during hard mode.
There are candy canes in the background and ginger houses with frosting and other candies as well.
The level seems to take place in the North Pole.

This can be proven as the North Pole Aurora is seen in the top of the level and (if seen closely) a few Elf stick figures can be seen in the background.

This level is the only level to reappear from the first game besides Slusher in Slush Tile Rush.
Slush Invaders Wiki Navigation
Community content is available under
CC-BY-SA
unless otherwise noted.