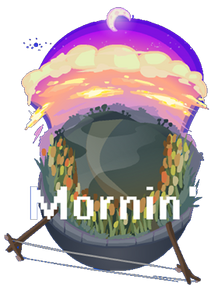 Mornin' is the 6th level of the Slush Invaders Game. This level takes place at the start of the second day of the Slush Fighters' assault on Big Blue, in a corn field.
Slush Invaders: Game
Previous Level: Robo Hokie
In this level, the Slush Fighters are chasing Big Blue through a corn farm on a highway after the events of the Robo Hokie. This level introduces the Drabs, who have just acquired jet packs. Fortunately, Auto Fighters such as Stucker, who has been rescued from the system of the Robo Hokie, are able to counter their bullets which hit any airborne Slush Fighter. When this level has been accomplished, the Slush Fighters will continue on to Lake, the level in which Sticorey is to be unlocked.
Next Level: Lake
Good Mornin'!
After the events in the Lane Stadium, Big Blue rushes outside to take a breather. However, he sees the Slush Fighters pursuing him and continues to flee. However, Standrew had reached the beginning of the corn field first, and as Big Blue ran and suddenly stumbled, Standrew delivered a massive kick to his face, sending him hurtling back into the sky.
While the Slush Fighters are attacking Big Blue, a squad of Drabs appear, suddenly with newly acquired jet packs. They unleash their fire upon the Slush Fighters, to their complete terror, as they are now forced to dodge the masses of bullets which come their way or be hit and sent to the ground. However, they manage to transport Big Blue to the other side of the map regardless.
Info
Enemies
Unlockables
Phase Ammo (Westick's bonus upgrade) 
Bonus Objectives
Reach a 12 combo.
Send Big Blue flying higher than the visible sky.
A way to get the Bonus Objective is by using high-velocity characters like Stedro and Steric. If you have Sthomas on your team to do this objective, use his ultra. If you don't have Sthomas, then keep on using Stedro for his first hit and Stick Matt for his spin.
Song
As Midnight Comes by watermusic34.
Gallery
Trivia
You can see a couple of sticks having a hangover at the start of the level. They could've been drunk from Lane (this is supported by their signs that are cheering for the two teams).
The preloader screen for the game has the same background as Mornin'.
The completion text is "Prices Fork Commute."
Mornin' is slang for the word, Morning.
The level possibly takes place in the countryside of the game considering that there are numerous corn crops in the background and hillsides.
If you calculate the time of this level and with the Sun rising and the Moon above the clouds, Mornin' possibly took place around the time of 4:00 - 6:00 AM.
Slush Invaders Wiki Navigation
Community content is available under
CC-BY-SA
unless otherwise noted.