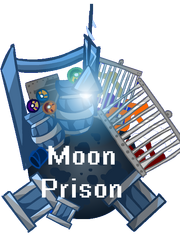 Moon Prison is the 18th level of the Slush Invaders Game. After escaping their Pokeball prison, the Slush Fighters will find themselves here, only to have caught the attention of some guards. The player has to eliminate 25 enemies to beat the level (40 in NG+ Mode).
Slush Invaders: Game
Previous Level: Data Wall
This level has a heavy contrast and a similarity to Bitland; the environment is not digital and instead of Blue Bits the Slush Fighters battle Drabs and Cobalts. Several captive stickmen are seen in separate cages, along with some of the Blue Baddies' equipment. The moment the player manages to finish off 25 enemies, they will also unlock Stick Waqas, too.
Next Level: Blue Base
Escaping Digital Captivity
When the Slush Fighters manage to escape the digital prison of Big Blue's pokéball, they find themselves in yet another prison filled with cages containing captive stickmen and various equipment belonging to the Blue Baddies. When Big Blue sees them, he alerts his men and sends them to attack the Slushers.
Outer Space Jailhouse Rumble!
A massive brawl ensues inside the prison as our heroic Slush Fighters battle the mass of Drabs and Cobalts to destroy them and to save themselves. When they destroy 25-40 of those, they find Stick Waqas and rescue him.
Info
Enemies
Unlockables
Bonus Objective
Beat the level in 120 seconds.
Song
Gallery
Trivia
This level has similarities to Bitland, but instead of fighting Blue Bits, the player faces Drabs and Cobalts.
The level completion text is "Jailbroken."
You can see stickmen in cages, Cobalt shields, buckets of Blue Paint and pokeballs in the distance.
This is the Last Bonus Stage.
You can see many stickmen in cages.
Along with Bitland, this is the only stage with no Blues (not counting Autumnus because Blues appear in NG+ mode).
Along with Bitland and boss levels, this level is the one of the only six levels with a different goal: defeating all the forces.
If you notice from all the levels you see random stickmen, they are all white, orange, and brown, except this one, which has a variety of different colored stick men.
It's the first level on the moon, the other ones are Blue Base, Luna and BigBoi Prime.
Slush Invaders Wiki Navigation