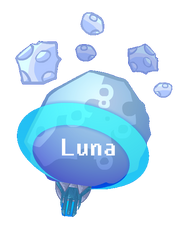 Luna
is the 20th and last standard level of the
Slush Invaders Game
.
Taking place on the surface of the moon, this level features a huge variety of enemies, and has shockwaves as a hazard that affects everything on screen.
Slush Invaders: Game
Previous Level: Blue Base
In this level, the Slush Fighters chase Big Blue on the moon, while being attacked by more of Big Blue's minions. Azures will come to support enemies, Mobiles will arrive to rescue Big Blue and so on. However, there is this new level hazard; shockwaves which will damage everything on the screen or in range. When this level is beaten, Stick Michael will be unlocked.
Next Level: BigBoi Prime
Space Jam!
Getting blasted out of the extraterrestrial base of the Blues, Big Blue is still in the pursuit of the Slush Fighters, who are still focused on chasing him. Nevertheless, more of Big Blue's henchmen and bodyguards arrive to fend off and destroy the Slush Fighters once and for all. Suddenly, all of the characters are affected by the next obstacle in their paths, appearing to be a shockwave which affects all of the characters, good or bad. They survive this nonetheless, and the Slush Fighters manage to find Stick Michael, apparantly crossed out in his own paint (possibly by the Slush Invaders), rescue him and continue with their hunt for Big Blue.
Info
Enemies
Unlockables
Bonus Objective
Other Obstacles
Song
Run! by Waterflame.
Gallery
Trivia
Slush Invaders Wiki Navigation
Community content is available under
CC-BY-SA
unless otherwise noted.