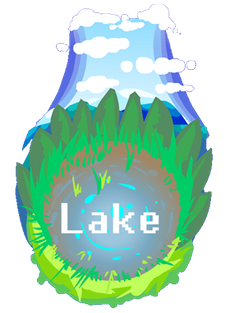 Lake is the 7th level in the Slush Invaders Game. As the name would suggest, it takes place near a lake.
Slush Invaders: Game
Previous Level: Mornin'
This level is the first place where Toasters appear. Later in NG+ Mode, Mobiles appear. The environment seems to resemble a marsh more than a lake, as the Slush Fighters and Invaders seem to be traveling on water and mud. The ground beneath them is littered with reeds and there is a mountain in the background.
Next Level: Autumnus
Trip to the Lake
After the Slush Defenders exit the farm, they find themselves in a fresh environment, the water up to their ankles and a fresh breeze blowing against them. But soon they are ambushed by Toasters, tiny tank-like contraptions designed by Drabs. The Toasters blast the airborne fighters out of the sky, into the shallow waters below, making the task of chasing Big Blue even more difficult. However, they manage to crush the toasters, rescue Sticorey, after discovering him trapped in a box up to his head, and continue to chase Big Blue toward an Autumn valley.
Info
Enemies
Unlockables
Bonus Objectives
Defeat at least 4 enemies.
Have only 3 fighters on the team.
Gallery
Trivia
The level completion text is "It ain't the Duck Pond."
This is the one of the only levels to take place somewhere environmental.

Additionally, it's the only truly environmental level in the first game to not have any environmental hazards.
Slush Invaders Wiki Navigation
Community content is available under
CC-BY-SA
unless otherwise noted.