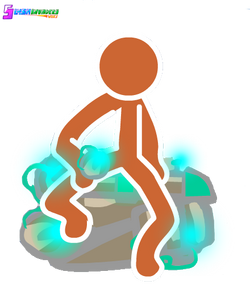 Joshtick (Josh) is a brown stickman with a white border who's a member of the Slush Fighters. He is the explosives expert of all the fighters, though he can also use an SMG well.
Joshtick, along with Westick and Stick JK, went in to save Standrew. Joshtick tosses a false bomb before blasting the door open, where he soon threw an explosive in a Drab's face, killing it and the other Drabs nearby. However, he gets kicked away by BigBoi, leaving Westick and JK to kill it. All three soon make a jump out of the building with Standrew, making a safe landing before a bomb Big Blue activates goes off. Joshtick later appears to gang up on Big Blue.
Joshtick is one of the fighters captured by Big Blue's men. He is later rescued after beating Slushy Ice Frosting.
Abilities
Adds random landmines on the ground.
Tosses small grenades.
The "Mine Time" bonus is if an enemy steps on a mine (?)
Upgrades
Plant C4

Initial attack: Plants a C4 bomb on Big Blue that detonates once he slows down (one time use!)

Kamikaze

Rigs teammate >right> of Joshtick's icon to explode upon contact with enemy

Cluster Grenade

Instead of 1 grenade, Joshtick tosses a group of 3 grenades
Unlocked after beating Galaxyrise's bonus objectives:

Send Big Blue flying higher than the visible sky
Defeat at least 4 Azures
Notes:
Joshtick has no Ultra Attack.
Joshtick's "Plant C4" ability on Big Blue will be nullified by Azures, so the player must take down any remaining Azures if Big Blue were to begin to slow down before Joshtick performs this, otherwise it will not work despite being activated.
Joshtick's Cluster Grenades hit any enemy within his mid range.
Joshtick's Mines do twice as much damage than his Cluster Grenades, which can also reward the player bonus Points ("Mine Time") if the Big Blue were to hit any of them.
Gallery
Trivia
Joshtick was fourth in the lineup when the Slush Fighters were ganging up against Big Blue. He was captured when he was pulled into the bushes with a screen.
Joshtick has the "Lightweight" Perk from Call of Duty: Black Ops as shown when they are jumping out of the building.
Joshtick wielded a SMG in the movie but not in the game (the role was already taken by Westick).
Joshtick gets pummeled with purses in the secret ending.
Joshtick's locked image shows his right foot tied with a metal chain to a iron ball.
Joshtick doesn't have an Ultra Attack, but he is the only Slush Fighter to have a special cutscene (activating the C4).
You can see Ben Stickobi and a Blue in the background of his Kamikaze ability.
Kamikaze works even if Joshtick is dead.
Joshtick does not use a gun in the game, and never actually used his gun in the movie either. It was purely aesthetic.
Joshtick wasn't actually "locked" as he could still move with the ball and chain around his legs.
He, along with Stickwart, are the two tallest members of the Slush Fighters.
Slush Invaders Wiki Navigation
Community content is available under
CC-BY-SA
unless otherwise noted.