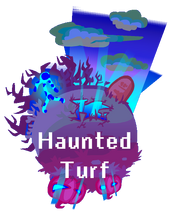 Haunted Turf
is the 9th level of the
Slush Invaders Game
. This is the only area, along with
Ether Lord
, to include
Zomblues
and
Pumpkins
.
Slush Invaders: Game
In this level, the Slush Fighters and Big Blue are attacked by Zomblues, undead Blues who presumably died in the events of the first movie and enchanted Pumpkins which sit on the ground or come hurtling toward you. Either way, coming into direct contact with a pumpkin could damage either Big Blue or your team of Slush Defenders. Zomblues, however remain on the ground, swiping at any Slush Fighter who happens to come across them. When they do, they become inert, turning black and blue (similar to Sthomas).
This level might be a little tricky with all of these obstacles in the way, but the player might be able to figure out how to surpass each and every one of them.
Welcome to the Haunted Turf
Previous Level: Autumnus
As soon as the Slush Fighters detect Big Blue, they also detect themselves in a dark, spooky land inhabited by zombie Blues and these horrifying living pumpkins which happen to explode whenever anyone runs into one. The Slush Fighters fight off the mystical creatures, rescue Stick Brian and continue after Big Blue who eventually comes to a stop, but not long after unleashing the Ether Lord.
Next Level: Ether Lord
Info
Enemies
Unlockables
Bonus Objectives
Beat the level in 90 seconds.
Earn at least 20,000 points.
Song
We Run and Fight (The Whole Song)
Disclaimer: We didn't make this; mooseymaniac made it! The articles and other things on this wiki belongs to Wikia and other respective owners...
Gallery
Trivia
Haunted Turf is the Ether Lord's home.
Along with Ether Lord's stage, this level was drawn during Christmas.
The level completion text is "Trick or Treat".
Knowing the second bullet, this could be a reference of "The Night Before Christmas" movie.
The Haunted Turf does not contain enemies other than Pumpkins and Zomblues.
Green Pumpkins do not appear here.
Regular Pumpkins and Zomblues only appear here and the Ether Lord level. 
The Haunted Turf and the Ether Lord levels are the only levels who use the same background other than Lane, Robo Hokie, Galaxyrise and Bluish Fighters.
The "Fun" fact is: "You can watch me get destroyed by Stedro in an SSBM Tournament right here: >Youtube link< We can't watch, but still a "fact" about the people in game.
This is the only level that Pumpkins and Zomblues appear.
The background of this level has dark clouds, with some light passing through them and purplish ground.
Slush Invaders Wiki Navigation
Community content is available under
CC-BY-SA
unless otherwise noted.