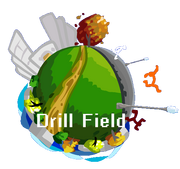 Drillfield (or sometimes called Drillfield Day) is the 2nd level of the Slush Invaders Game. It is a relatively short level that introduces enemies, the importance of eliminating them and the targeting system.
Slush Invaders: Game
Previous Level: Slusher
The level begins where Big Blue has apparently landed successfully, although the player will have to send him flying once again, which will now happen on every level (except during Boss Levels, Bitland and certain levels in the game later).
Once the player has sent Big Blue flying, two Blues will appear on the screen, where the game tells the player to use the "Targetting System" on them in order to send the player's available Slush Fighters that are on their team to defeat them. However, the game will also tell the player that, while defeating the Blues, they will still have to keep Big Blue in the air to avoid a sudden game over and as well as making sure that the number of enemies that appear are kept to a manageable minimum in order to continue launching Big Blue and finish the level.
There will be up to three to four Blues in this level, as this will be their introduction in the game, making them a common enemy until the end. Once the player has reached halfway of Drillfield's actual land, the level will be over.
In NG+ Mode, Drabs and Cobalts, with the rare chance of Toasters, also appear in this level.
Next Level: Drillfield (Night)
Taking a Stroll in Drillfield
After sending him flying through Slusher, Big Blue lands violently on both his feet, seemingly okay, that is until Standrew arrives and sends him flying again with another launcher kick (accidentally destroying a nearby application stand from the students of Slusher).
Stedro, Stickhanh, Marcstick, Stickyle and Stick Matt all go after Big Blue and keep him flying, until Westick spots a small group of Blues and alerts the rest, causing them to also go after and beat the Blues, distracting them from keeping Big Blue in the air. Luckily, Stickhanh is able to send him flying with a kick of his own just in time.
After beating the Blues, the group continues to chase Big Blue through Drillfield.
The Drillfield briefly appears in the said animation as the camera pans below its ground to reveal the Blue Underground.
Info
Enemies
Unlockables
Bonus Objectives
Other Obstacles
Song
Flight by Waterflame (The whole song)

Disclaimer: We don't own this, Waterflame does! The articles and others on this wiki belongs to wikia and''''' other respective owners.
Gallery
Trivia
Slush Invaders Wiki Navigation
Community content is available under
CC-BY-SA
unless otherwise noted.