The Combo Cookbook is a series of pages found in the help section of the game. Each individual page is purchased from the NG+ shop at 80,000 points per page. Essentially, it contains a series of combos and interesting squad alignments to aid in the gameplay of harder levels.
Pages
Page one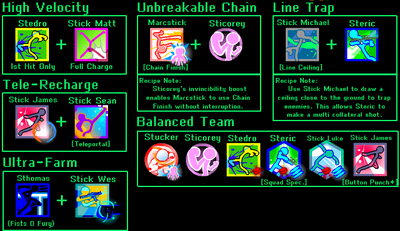 The 1st Page of Cookbook Recipe includes:
High Velocity
Unbreakable Chain
Line Trap

Stick Michael [Line Ceiling]
Recipe Note : Use Stick Michael to draw a ceiling close to ground to trap enemies. This allows Steric to make a multi collateral shot.

Tele-Recharge
Balanced Team
Ultra-Farm
Page Two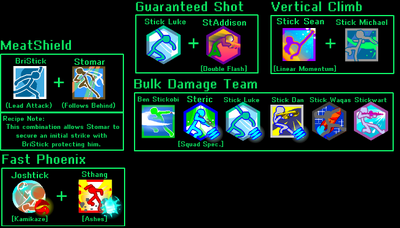 The 2nd Page of Cookbook Recipe includes:
Guaranteed Shot
Vertical Climb
Meat Shield
Bulk Damage Team
Fast Phoenix
Page Three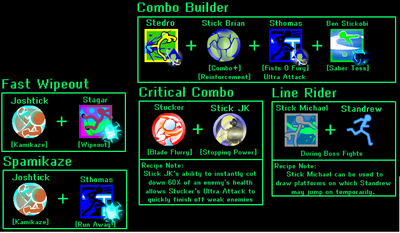 The 3rd Page of Cookbook Recipe includes:
Combo Builder
Fast Wipeout
Spamikaze
Critical Combo
Line Rider (During Boss Fights)

Recipe Note : Stick Michael can be used to draw platforms on which Standrew may jump on temporary.
Trivia
Keep in mind that the Combo Cookbook is not the final say on the best strategy to use to play the game. Many other combos and combinations exist, so creativity is the key to truly owning NG+ mode.
Sticorey is an elite ingredient in the cookbook due to his ability to shield other fighters.
Westick was accidentally called "Stick Wes".

This also happened with the other fighters, such as Marcstick being named "Stick Marc", Sthang being named "Stick Hang" and BriStick being named "Stick Brian".
Slush Invaders Wiki Navigation