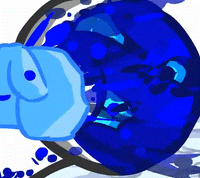 Blue Paint is - in essence - blue paint. However, unlike its basic, commonly used counterpart, this blue paint is harder to wash off than other paints, difficult to paint with, can only be specially ordered from the Moon, is more expensive to produce and (most importantly) can convert virtually any stick into a minion of Big Blue.
Role in Game
The physical blue paint is only seen in two different cutscenes: the end of the
Bluish Fighters
and after the
fighters infiltrate the
Blue Base
. In the cutscene preceding the boss battle with
Sthomas
,
Steric
, and
Stomar
, Big Blue dumped a bucket of paint onto the defenseless trio, apparently only turning them blue. However, when
Standrew
frees them, they respond violently and attempt to smash him to bits, showing the corruptive power and the process where Blues are created for the first time. The second instance is when the defenders infiltrate the Blue Base and watch the harrowing process where innocent sticks are mass-converted via a paint machine.
Removal
Despite the paint's power, it appears to only be an external coating on the victim's skin. Because of this, a sufficient (and painful) amount of force applied to the victim is usually enough to free them, as seen when the Bluish Fighters are defeated and Big Blue's paint flies off after Standrew punches him hard enough.
Effects on Victims
Blue paint can cause a variety of effects on its victims, including:
A desire to spread more blue paint onto other things or people
Strict loyalty to Big Blue, although they keep their original personalities
Hand-to-hand combat abilities (?)
In the case of Azures, force field magic
Blue Paint can also bring an inanimate object to life (a prime example being the Wicker Blue).
Corruption
It appears that blue paint can corrupt the victim, transforming him or her into a shell of his/her former self. When left untreated for too long, blue paint can transform one's body. These transformations include, but may not be limited to vine-like patterns on skin, hunched back, big, white, glowing eyes, no mouth, crossed legs, a tail, or strange/slurred speech like Moon-Bleached Blunatic. A stickman left untreated for a very long time will be driven insane by this corruption.
Gallery
Slush Invaders Wiki Navigation
Community content is available under
CC-BY-SA
unless otherwise noted.