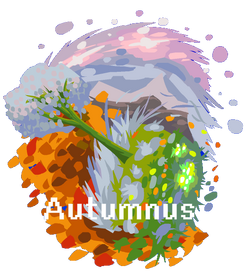 Autumnus
is the 8th level in
Slush Invaders Game
, taking place in an orange forest during Autumn. The first playthrough of the level acts as a unique "bonus stage" where success depends on how many trees are broken, rather than distance traveled.
After you beat the game in NG+ Mode, the game turns into a regular level, with the trees still included.
Slush Invaders: Game
Previous Level: Lake
Autumnus comes after Lake, taking place in what seems to be like the fall season (likely hinting the time in the series).
However, unlike the level before and after this, Autumnus acts as a sort of "bonus level" in which the player can not lose; they can either quickly launch Big Blue and let him escape or continue the assault to get extra points, through both the Combo Counter and by smashing as much trees as they can.
Either way, the player advances to the next level regardless of which option is taken. The player can skip this level by launching Big Blue immediately, causing him to land just a meter away and "escape" so as to not waste time and get to the next level afterwards.
Next Level: Haunted Turf
All Around Tree Breaking!
Moments after the Slush Fighters surpass the wetlands, Big Blue continues to rush ahead of them. When the Slush Fighters find Big Blue, they also discover that they are surrounded by a lush, orange forest, the maple leaves blowing in the air. They immediately spot Big Blue and send him into the air again, only to be interrupted by several trees which Big Blue is hurtling into, slowing him down. However, they manage to keep Big Blue in the air enough until he heads toward a dark cemetery filled with even more hostile obstacles.
Info
Enemies
Unlockables
Bonus Objectives
Smash 27 trees

Strategy: Do this bonus objective during your first save file. Use high velocity fighters like Stedro and Stick Matt, with Stick James keeping them fully charged. Just in case Big Blue starts to slow down, use Joshtick with his C4 upgrade and Stickhanh as backup.

Note that this will ONLY work before you NG+ (or NG++ and so on) so make sure you did the objective beforehand.
Other Obstacles
Tall trees will appear to block Big Blue's path. They will break upon contact with him and slow down his velocity.
Song
Gallery
Trivia
In the first playthrough, players would be rewarded points based on how many trees they smashed. In NG+, Autumnus becomes a regular level, with the trees becoming obstacles like the streetlights in Drillfield Night. Destroyed trees, however, still count towards your score (in the first playthrough that is).
You can stay as long as you want in this level.
The conditions of this level in NG+ make it more preferable that the bonus objective is done during the first playthrough of the level.
In regular mode you can beat the level in less that 2 seconds. It looks unbelievable but it's true.
Autumnus is the Latin word for Autumn.
The level completion text is "# Trees x 500", but "Orange Forest" during hard mode.
The normal version of this level is the only way to get the one hundred thousand combo.
There are no enemies in the first time you play it.
It is still possible to still get 27 trees knocked down in regular mode, it's just that there are more trees.
Slush Invaders Wiki Navigation
Community content is available under
CC-BY-SA
unless otherwise noted.